Commercial expansion in Europe
Approval is no "done-deal"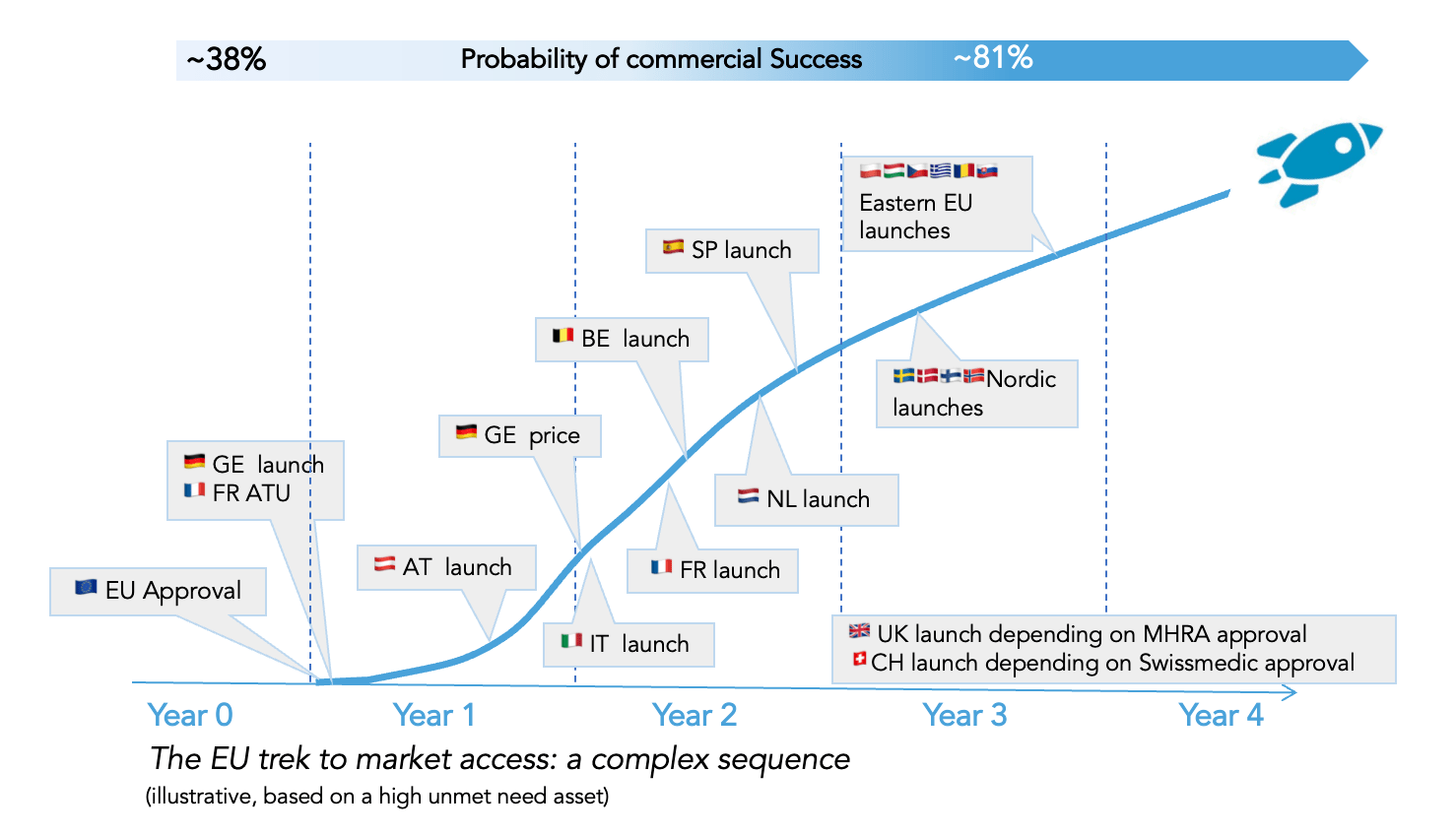 EMA approval is not the finish line in Europe.
True access to European patients happens upon convincing each EU country about the health economic value of the asset.
It needs multiple conversations based on clinical and non-clinical evidences. It aims at assessing the added value in each national healthcare system.
Successful exchanges open to price and reimbursement scheme, generally rewarded by broad patient access.
Coming prepared with the right data and strategy well ahead of approval is essential to ensure timely access and optimal pricing.
Commercial readiness starts early
There are important decisions to make well ahead of EMA approval.
Here's why: A successful European launch is mostly a country-by-country endeavor, driven by successful engagement with national payers. It is essential to include input from European payers and prescribers in the late clinical program to engage them at launch with the right set of evidence. Furthermore, the deployment of the strategy, organizational setup, and launch sequence should be anticipated to maximize patient reach, optimize commercial success, and control costs.
Some light but critical commercial action from phase II read-out at the latest.

References
da Costa Gonçalves F, Demirci E, Zwiers A. A detailed analysis of expedited regulatory review time of marketing authorization applications for new anticancer drugs in the US and EU. Clin Transl Sci. 2022;15:1959- 1967. doi:10.1111/cts.13308
Gallo V, Alessi E, Montilla S, Altamura G, Traversa G and Trotta F (2022) The timelines for the price and reimbursement authorization in Italy 2018–2020. Front. Med. 9:1055359. doi: 10.3389/fmed.2022.1055359
Launching is no "one-size fit all"
European commercial deployment can take various forms.
Despite joint regulatory review, Europe remains a fragmented health market with different epidemiology, diverse healthcare offerings, and varying legal requirements. A European organization can adopt various structures depending on the disease area situation, product profile, innovator capacity, and priority.
This is a key aspect to consider and plan meticulously for the organization's setup well ahead of market introduction.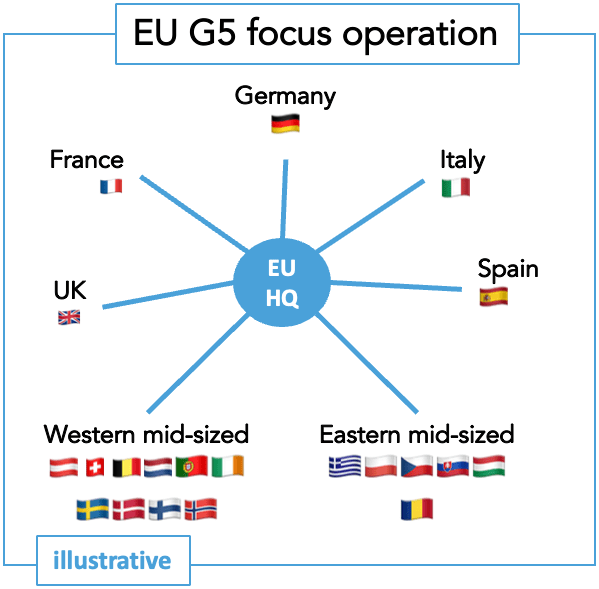 Take a look at xcube.bio position papers
Xcube.bio shorts – Market access process in Europe
Key points to bear in mind when accessing the European market.
Xcube.bio shorts – Pricing of Orphan drugs: Europe vs US
Main differences that govern price setting of Orphan drugs in the US and in Europe
Xcube.bio shorts – Successful pricing of Orphan Drugs in Europe
A succinct list of considerations to optimizes the pricing outcome of Orphan Drugs in Europe.
Xcube.bio shorts - Turbulence is life force
Has the Golden Age of Biotech Come to an End?